Don't let those embarrassing 3-putts ruin a good day on the golf course.
Imagine you hit the drive of your life… way past your buddies on the hardest hole at the Arnold Palmer Championship Course. Then you actually follow it up with a magical second shot — a 9-iron approach that lands on the green just 25 feet from the cup.
Wow! It's a perfectly played Par-4 to that point. You walk up to the green with your chest out, feeling pretty dang good about your game. 
Then you pull out your putter and it all goes to hell. 
Poof! Two great shots ruined by the simplest task in golf. Your hope for a par is gone with another dumb 3-putt. You walk away deflated, embarrassed, and searching for answers.
It happens all the time, and we're going to show you exactly why. 
The Eyes On The Prize Putting Masterclass is an intensive, hands-on learning experience that will expose the real cause of your common misses and provide a proven process for improvement. 
Which means you'll stop 3-putting all the time and start making more of those pesky 4-6 footers. A lot more! 
---
---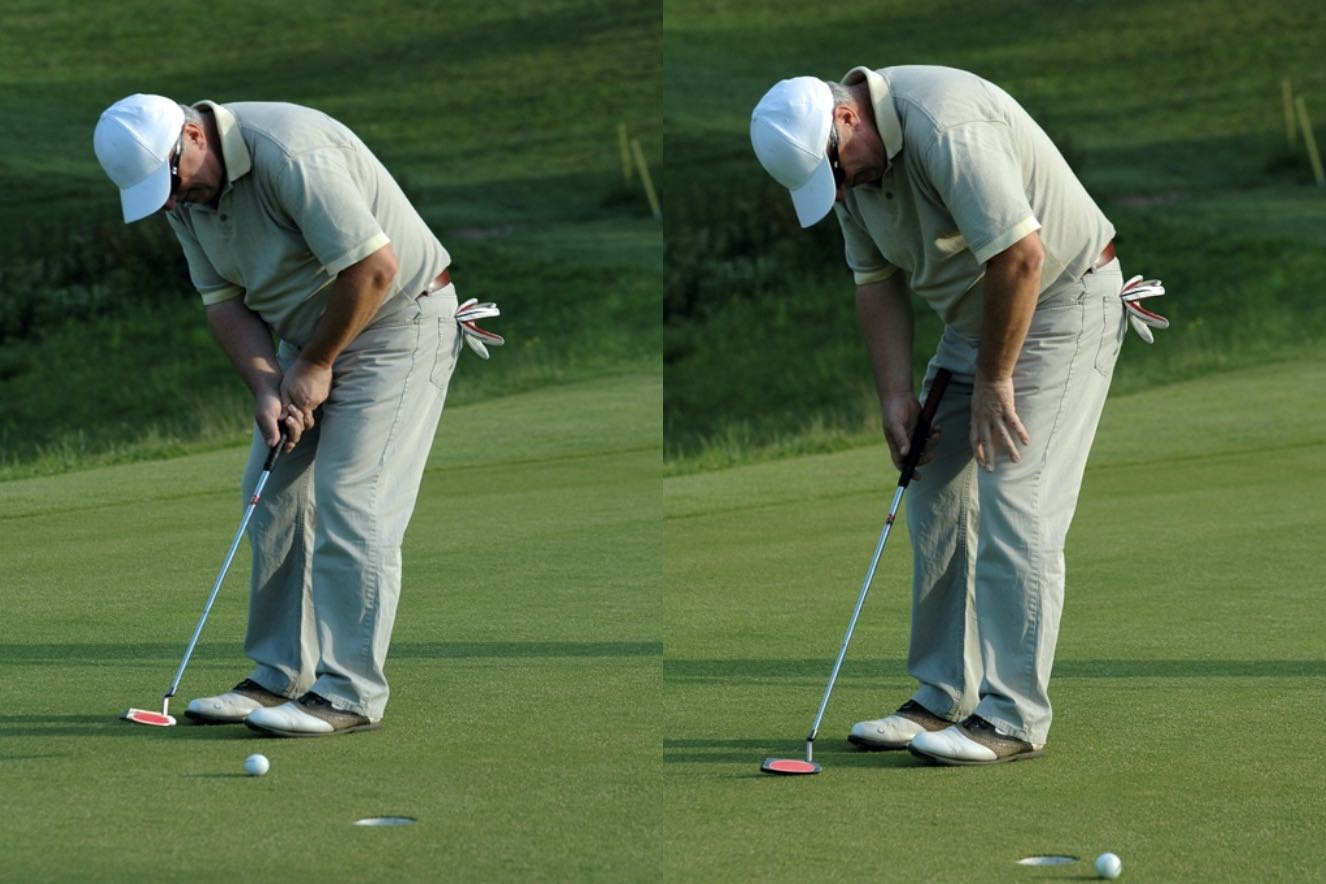 ---
This class changed my life, quite literally. I used to have the yips really bad. I tried everything under the sun, and nothing else worked. I can't recommend this enough.

John Furgurson
---
Eyes On The Prize Putting Masterclass
---
---
---
---
When it comes to putting, what you don't know really does hurt you.

Most golfers have little awareness of what's going on when they putt…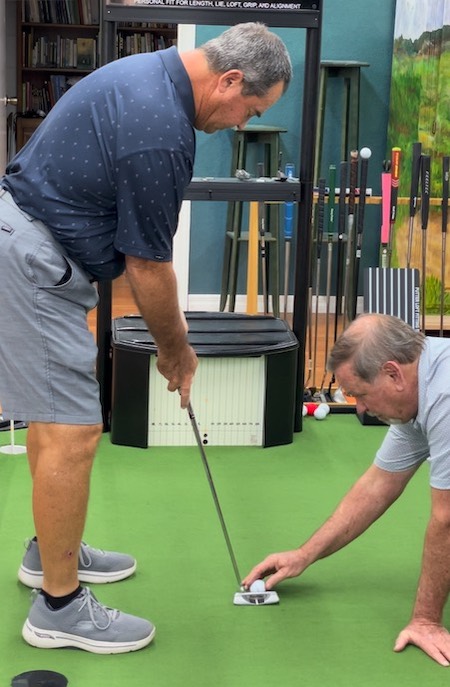 They don't know if they're aiming right or left. They don't know if the putter head is square. They can't gauge the distance or read the break, and they don't know where to turn for help.
It's one big Blind Spot.
If you want to get better you have to start by recognizing your blind spots and understanding the root of the problem.
Most people think it's their putting stroke. We're going to bust that myth wide open. 
There are many other things that could be sabotaging your chances… It might be your putter, or your eyesight, or your posture, or your aim. You'll never know till you take the class and get tested.
We've taught more than 10,000 golfers and we've found three categories of problems that prevent perfectly capable golfers from becoming good putters:   
Mental, physical and mechanical.
We'll cover all three and provide proof points that will help you understand exactly what's holding you back. Plus, you'll get specific skills you need to improve in all three of these categories.
Because here's the thing… they're all connected!  
You can't just work on the putting stroke and expect to get better without covering the other fundamentals. 
Come and learn from Iron Archie - the most accurate putter in Florida.
On November 11th, 2010 Archie made 217 putts in a row from 11 feet away. Not even the hottest pros can match his stroke and we'll share his secrets with you.
A Masterclass of Ah-ha Moments.
You'll be amazed by what we reveal about your putting.
This is not your ordinary, run-of-the-mill putting lesson full of generic theories and short-term tips. It's hands-on learning based on irrefutable evidence from every individual student.
The first thing we do is test your aim with our own, custom laser aiming system. (You'll be amazed how many people cannot aim properly on a 6-foot putt.)  We're literally on our knees trying to help you see the line and get yourself set properly.
Because it's really hard to putt well if you're not aiming at the target.
Then we'll do a dynamic putter fitting to determine if you have the right tool for the job. (The big chains charge $200 for this service alone.) If necessary we'll do minor adjustments to your current putter on the spot. 
Next we work with TPM technology, the most reliable putting machines ever devised, to teach a simple, shoulders-only putting stroke. With our four trusty trainers you'll get plenty of time to experience what a solid, repeatable stroke feels like. 
Once you feel it then you can own it, trust it and repeat it. And it doesn't take long at all.
Finally, we introduce an eye-opening new twist to your putting method that will produce dramatically better distance control and better aim. It's the most natural — most overlooked — method ever.
It's guaranteed to push you out of your comfort zone and change your perspective on putting forever. But you have to see it for yourself.
---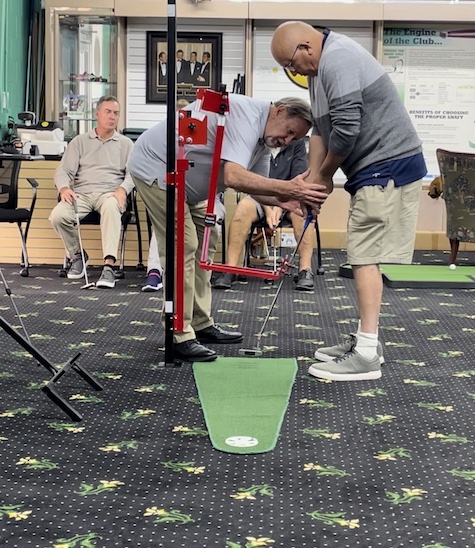 Are you struggling with long putts?

Does your back hurt when you putt?

Do you sweat bullets over the short putts?

Are you constantly experimenting with different putters, methods and grips? You don't want to miss this.
---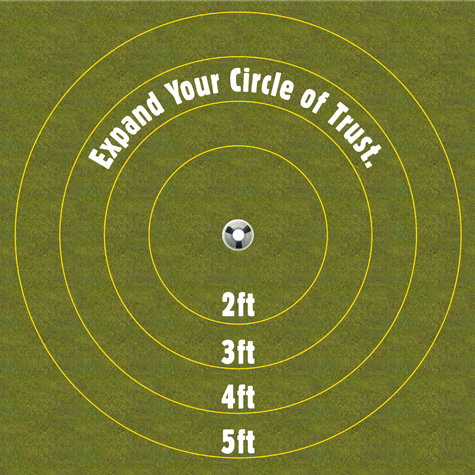 This hands-on workshop will change your perception of putting completely.

Your mindset, when you're standing over a five foot putt, will change from questionable to confident. Stressed out to stress-free. The hole will look bigger and your Circle of Trust will grow dramatically.
---
---
Your confidence will soar once you're trained in these fundamentals:
Accurate Aim — As the old saying goes, "aim small miss small." Laser tracking will help improve your aim and show how your eyes have been tricking you!

A shoulders-only putting stroke — Arnold Palmer and many pros of his era hit putts with their hands and arms. But that won't work on fast, modern greens. You need a relaxed, no-hands putting stroke.

The right putter — In order to putt well you absolutely have to trust the tool you're using. Bring your putter and we'll assess the shaft length, head, loft, grip size, visual aids and many other factors that can affect how your putts roll, and how well you aim.

Proper posture — Putting can be hard on your back. We'll show you a better way that allows you to play and practice without sending you to the chiropractor.

Positive Mindset — We'll show you how to set yourself up for success with the right frame of mind built on solid fundamentals and a dependable, repeatable routine.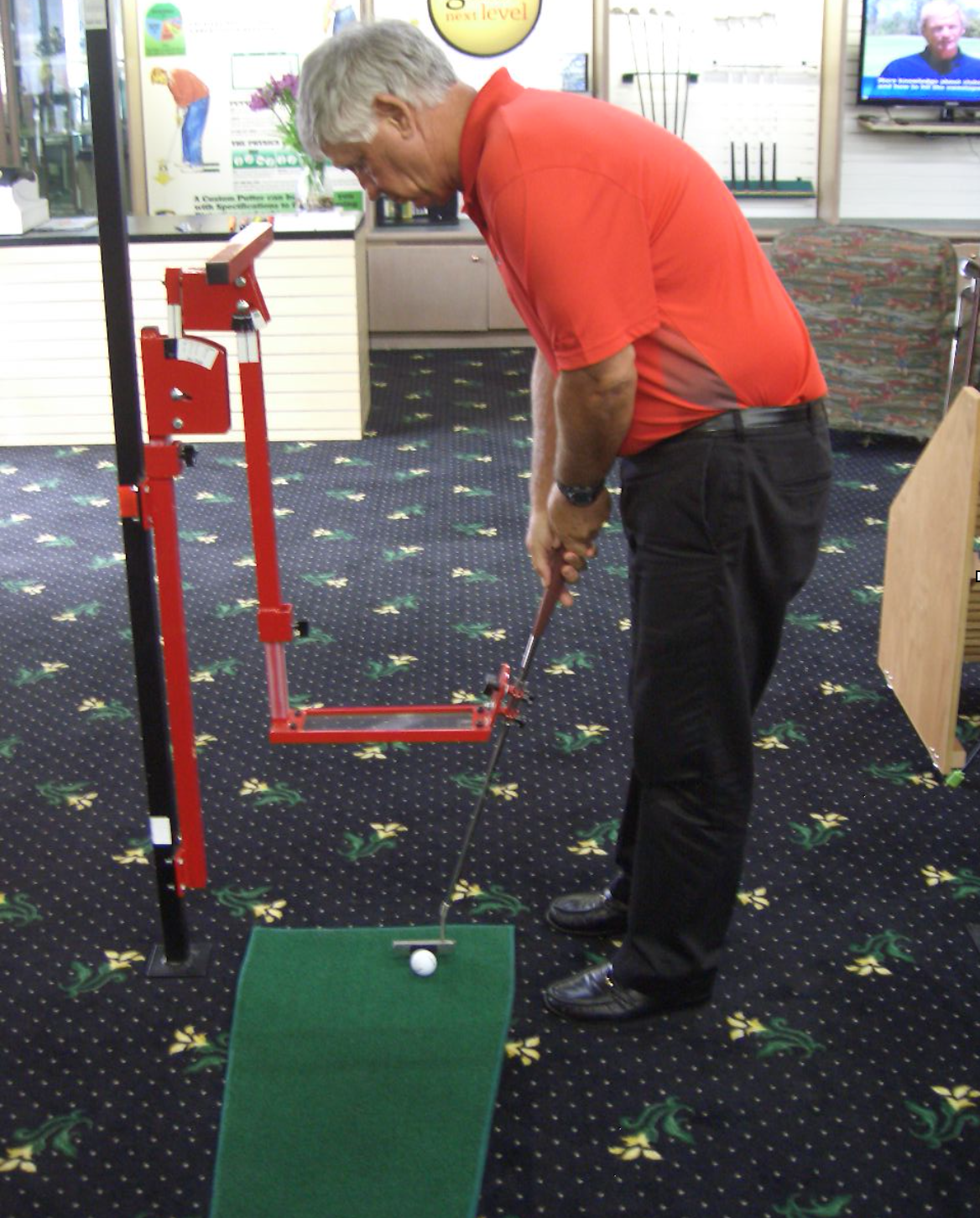 ---
Once you finish this class and practice a little on your own, the hole's going to look gigantic. You won't be sweating bullets over every little putt, and your distance control on longer putts will be radically improved.
This intensive, hands-on masterclass produces measurable improvement before you even leave the building.  Your circle of trust will grow exponentially, so when you're standing over a 5-foot putt your mindset will change from questionable to confident.
---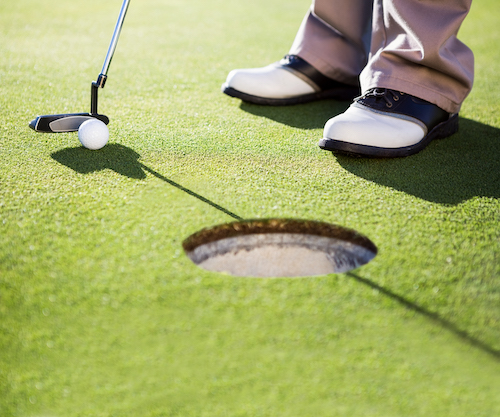 ---
Don't bother bringing him an apple.
John S. Ford might be the toughest golf instructor in the country. He doesn't mess around with vague theories, quick-fix tips or mamby-pamby platitudes. 
He works day and night to provide quantifiable proof that gets results. His teaching is based on 50 years in the golf industry and 25 years of putting data with ordinary golfers just like you.
John has been hand-crafting golf clubs since the early 70's. He built clubs for Jack Nicklaus, Sam Snead, Arnold Palmer, Ben Crenshaw, Julie Inkster and many others. But John's not the least bit impressed with tour pros or famous people. He really doesn't care about that. 
But he does care, deeply, about helping average golfers transform their putting. In 2000 he opened the Golf Institute of America in Naples FL, and he's been teaching putting ever since. In 2012 he moved to The Villages and opened GNL Golf.
He can be bit gruff, and his style is not for everyone, but he definitely gets results. It really is, Golf at the Next Level.
---
---
After I went to see John Ford about my putting, I won my first flight at 74 years old. I've never played better!

Grant Sweet
---
John Ford's class is worth every penny! He won't just tell you the truth, he'll show you.

David Lynch
---
This class on putting is something every golfer needs. I was amazed by all the little stuff I did not know.

Louis Rigano
Stop second-guessing your stroke. Your putter. Your aim. Yourself. Start trusting it again.

Look, golf is a humbling game. Even the tour pros have been known to shank one out of bounds or miss a simple little gimme.
At some point, you will hit a shot that's downright embarrassing. But after this class, it won't be when you're on the green. 
We're going to shed light on what's really going on with your putting and open your eyes to a much better way. It's a very simple method that's built on our natural human instincts, human anatomy and common sense. 
You'll go from putting scared to putting confidently. From putting blind, to putting with your eyes on the prize the entire way.
Instead of dreading the putter, every green will represent a fantastic opportunity.  
Think about that!  You might not play well from tee to green, but anyone can be a par golfer on the greens. 
Just two putts on every hole. Simple as that. 
So even if you dribble one off the tee, you can save your pride by sinking a putt. A hot putter can make up for many missed shots.
Eyes On The Prize Putting Masterclass
Sign up now for a game-changing master class at GNL golf. Get the building blocks of success you need to improve your putting dramatically! You'll be the one that all your friends turn to for advice. Here's what you'll get: 
$49
---
GNL's BAIL-OUT-AT-THE-BREAK GUARANTEE
If you're not learning, and not satisfied that this class will be worth every penny, you can bail out at the break and we'll give you a refund. That's our money-back guarantee. No charge. No questions asked.
---
Pre-payment is required to reserve a seat — or seats. Bring a friend and speed up your improvement!
These master classes sell out fast, so reserve your space early and come prepared! Bring your putter, your glasses, your golf shoes and your most attentive learning attitude.
GNL Golf is located on Hwy 441 in Lady Lake - one mile south of Sam's Club.
Space is limited to 4 people.
Get the ultimate confidence booster. 3 hours - only $49.
Sign up now for a game-changing master class at GNL golf. Get the building blocks of success you need to improve your putting dramatically! You'll be the one that all your friends turn to for advice. Here's what you'll get:
Accelerated learning in our state-of-the-art indoor training center in Lake Lake, Fl.
Three hours of hands-on instruction plus practice with all of our equipment. Snacks and beverages included.
A sneak peak into the world of Accidental Magic. We've all hit that one, magical shot that jumps off the clubface and flies majestically toward the target. Learn to turn that into a repeatable process.

Definitive club specifications for the type of putter you really need. This equipment tutorial is worth ten times more than the class itself!